Rush to Mini City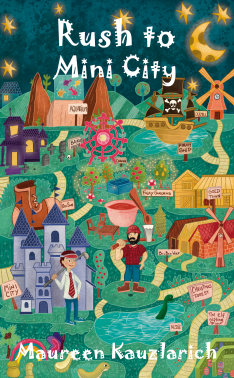 A magical golf course. A miniature mystery. A ticking time clock or it all disappears.
Packed with fast-paced action and humorous characters, Rush to Mini City is the middle-grade book both boys and girls will love! The story follows Rush, heir to Mini City Miniature Golf, a broken-down minigolf course. Unlike his family, who cared for the golf course for generations, Rush doesn't care that it is set to close on Halloween.

But on the night before its closure, a mysterious person lurks around the 18 holes. Rush, who suffers from Ehlers-Danlos syndrome, chases after the trespasser as best he can until they disappear, leaving only golf shoes behind. Struck by an unexplained force, Rush shrinks by the first hole. This is where the adventure begins. . . .

At every themed hole a hand-crafted "miniature" comes alive bringing new characters and trouble for Rush. He finds out the magic his great-grandparents instilled in the miniature characters is leaving the game. Rush must follow an enchanted golf ball to the 18th hole and stop the villain who is stealing the magic.

Along the way, a treasure hunt for seven lucky items ensues and every miniature he encounters could either be a friend or foe. Unfortunately for Rush, he only has until midnight to collect the items before the villain. Readers of all ages will have fun unfolding the mystery that is Mini City.

AGES 8-12
Reviewed by Anne-Marie Reynolds for Readers' Favorite:
Rush to Mini City by Maureen Kauzlarich is a children's adventure story. Rush is heir to a broken-down golf course, the Mini City Miniature Golf, and, unlike the generations before him, he isn't bothered that it is closing down on Hallowe'en. The night before it is set to close, a stranger is hanging around. Rush chases him but the stranger disappears, leaving only his golf shoes behind, Suddenly, Rush shrinks, right next to the first hole on the golf course and that's where the adventure of a lifetime begins for him. At each hole, one of the miniature figures comes alive and it's down to Rush to fight his way past them, right to the last hole. His grandparents made the miniature figures with magic but their magic is disappearing and only an enchanted golf ball can lead Rush to the truth and to the stranger stealing all the magic. Rush is in a race against time; can he solve the mystery and return the magic to the golf course?
Rush to Mini City by Maureen Kauzlarich is a fascinating and enjoyable read. The characters are an eclectic bunch of fun, carefully designed to bring a child's imagination to life. Each chapter is fronted with a great illustration and the story is packed with amazing detail and lots of fun, twisty adventure. It's a unique story with shades of Alice in Wonderland here and there, written by a highly creative author with a fantastic imagination. Her descriptions take you into the story and, provided you have a great imagination, you can follow Rush's adventure through the golf course. This is perfectly suited to its audience and kids will want to read this one over and over again. And, hey, you don't have to be young to enjoy this; it's perfect for young and old alike!